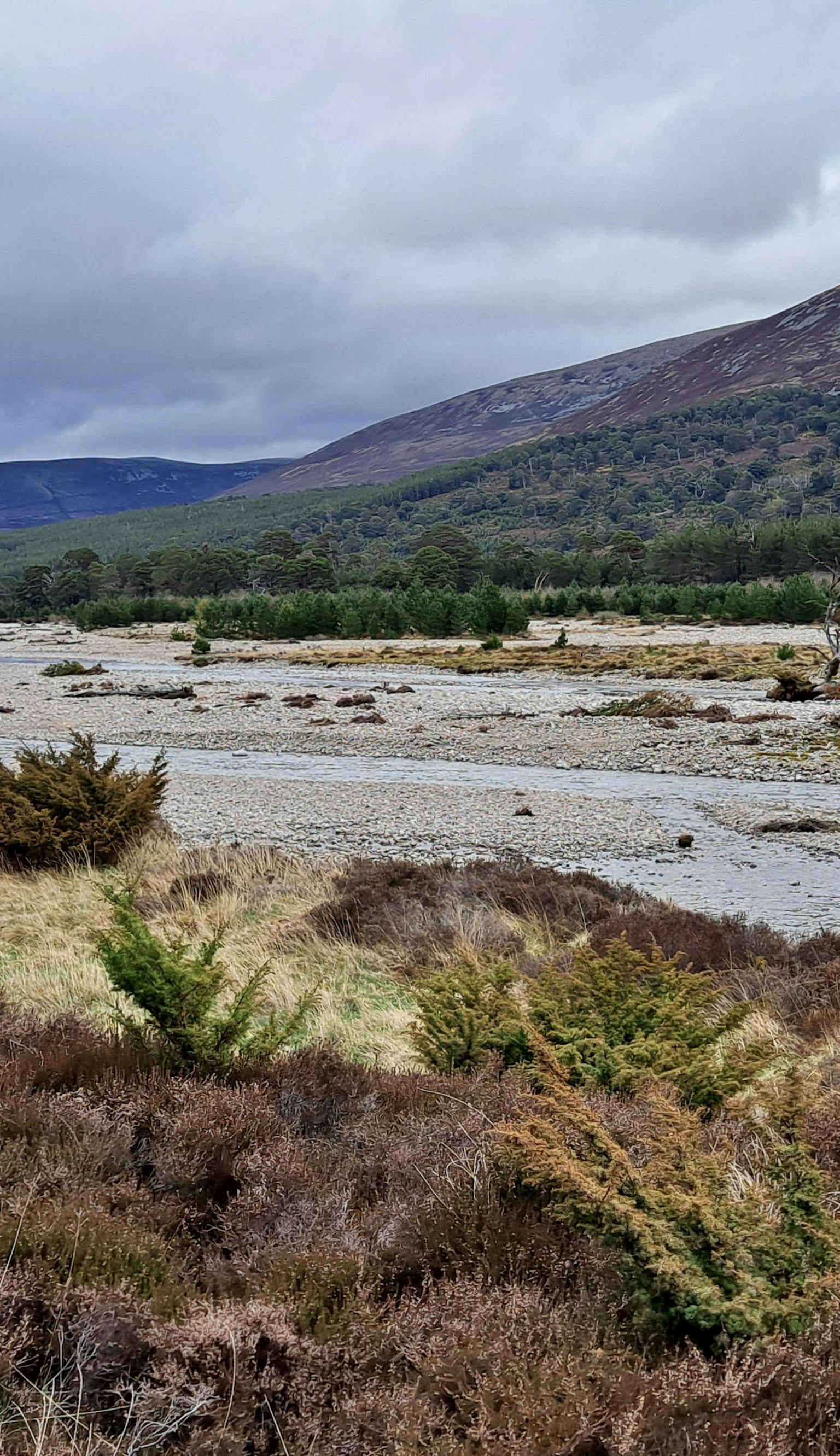 A few years ago, LUC's landscape planners prepared an Assessment of the Effects on Special Qualities of the Cairngorms National Park and Wild land Area for proposed access works between Glen Feshie and Glen Tromie.
The work was required in order to access large blocks of low-quality non-native forestry planting, so it could be removed, therefore enhancing the landscape and biodiversity value of the area.
Alongside this, considerable areas of native woodland planting were proposed, as part of the wider Cairngorms Connect initiative to restore native woodland.
Learn more
The proposed work included restoring and repairing tracks that had been poorly constructed, leaving unsightly eroding scars in the form of cuttings, borrow pits and ditches.
These together with the coniferous plantations detracted from the Special Landscape Qualities of the National Park, associated National Scenic Area and Wild Land Area.
Our work was undertaken in accordance with guidance prepared by NatureScot including their Technical Guidance: Assessing impacts on Wild Land Areas (September 2020).
Learn more
Visits to the area in May 2023 have enabled us to see the benefits the work has brought:
The former badly eroded and scarred access tracks and adjacent side slopes have been replaced by well-routed and designed alternatives, with the associated drainage swales being graded and revegetated, to blend seamlessly with the adjacent landscape. Whilst large-scale landscape works across the side slopes and drainage swales have been undertaken to achieve this, they have been designed and executed such that within a few years they will be barely visible.
The use of natural granitic materials sourced from within the area itself is successful in ensuring track and path surfaces and colours which tie into the character of the landscape, and continue to support vegetation types which are appropriate to the local geology and soil types – including in terms of drainage characteristics and chemical composition. This will also mean that the visibility of the running surface of the track itself will also fade – with weathering, and as mosses, lichens and acid heath species recolonize the edges and central strip.
The non-native forest plantations are in the process of being removed, taking away the unnatural-looking long straight lines of plantation edges, the dark blue-greens of non-native trees which appear alien in the upland landscape, and the high-density planting which has smothered the underlying vegetation and peatland.
Large areas of native saplings have been planted, at low and irregular densities and avoiding straight lines, across areas adjacent to those where the non-native coniferous forest plantations are being removed. These will help act as a seed source to promote the extension of our native Caledonian pine woods across areas from which they have been lost.
Former untidy borrow pits and workings along the routes of access tracks, which gave the area a damaged appearance, have been restored.
Areas of bog–sphagnum and peat, have been restored, where former straight-edged, fast-running drainage channels were eroding them away. This will help lock up carbon, into the landscape – and reduce the drying and erosion of peat and heathland.
Culverts, channels and bridge abutments have been constructed using carefully positioned site-won boulders, and have a more natural character and appearance. The use of unnatural materials and colours, such as visible concrete, plastic and geotextile has been avoided.
Lower down within the glens, their continued story of recovery, enabled by a reduction in deer numbers, is demonstrated by the widespread successful regrowth of species including juniper, birch and Scot's pine, which is slowly transforming them into a more natural state.
The glens and hillsides are very different now, with biodiversity returning and the enhancements to their Special Landscape Qualities being clear.
We are really delighted that LUC has been able to play a small part in assisting with their recovery.
Get in touch with us